ANNAPOLIS – Congressman Jamie Raskin (MD-08) today hosted a press conference with Governor Larry Hogan, State Senators Craig Zucker and Malcolm Augustine, Delegate Bonnie Cullison, and 211 Maryland President and CEO Quinton Askew to announce that the 211 Health Check Program is launching this summer in July.
The Thomas Bloom Raskin Act (Senate Bill 719/House Bill 812), which takes effect July 1st, directed the Maryland Department of Health (MDH) to establish the 211 Health Check Program. The proactive mental health phone support program provides a one-on-one connection with a warm, caring specialist trained in suicide prevention and mental health support.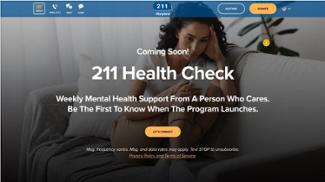 "I'm moved to think we have a state that has worked together across party lines to focus on mental and emotional health," said Rep. Raskin. "COVID-19 took a huge toll on our people. The mental and emotional health problems among very young kids, preteens and teens in particular, skyrocketed during the pandemic. The rates of suicide and suicide attempts have increased dramatically. The 211 Mental Health Check Program responds to this crisis. We live in a state that cares about each and every person out there, and we don't want to lose anybody else."
Marylanders can text HealthCheck to 211-MD1 to sign up for text alerts about the program or to register for the program early. 211 Maryland will send supportive text messages leading up to launch of 211 Health Check later this summer. When the program launches, those who have signed up for text alerts will be invited to schedule their first call.
"I want to thank Congressman Raskin for sharing his story and shining a light on mental health," said 2-1-1 Maryland President and CEO Quinton Askew. "At 211 Maryland, we are really excited to be a partner in this effort to provide proactive mental health services for those who are in need and we are looking forward to beginning the 211 Health Check Program in July."
The Thomas Bloom Raskin Act was the first bill Governor Hogan signed into law on April 13, 2021, the day after Sine Die.
"I know that countless lives will be saved because of the law that now bears Tommy Raskin's name," said Governor Hogan. "We aren't just memorializing Tommy's memory. We're also ensuring his name will forever be a symbol of hope for others who are struggling with mental health issues. Particularly after all we've been through over these past 16 months it's critically important that we continue to focus on the issue of mental health. No one should ever feel like they must suffer in silence."
According to the Centers for Disease Control and Prevention (CDC), visits to the emergency department for suspected suicide attempts by adolescent girls have increased 50% in the past 18 months and the proportion of mental health–related emergency department visits for children aged 5–11 and 12–17 years increased approximately 24% and 31% in 2020 compared to 2019.
"One of the important things about this program is that it gets people before they're in crisis. It gives them the opportunity to talk to a mental health professional during a time when they need assistance the most," said Senator Zucker, Senate Bill 719 sponsor. "This is an opportunity to help thousands of Marylanders and also save lives."
"We were inspired by our Senior Call Check Program, which is renowned across the country," said Senator Malcom Augustine, Senate Bill 719 co-sponsor. "We said, 'let's match our Senior Call Check Program with our 211 Maryland behavioral health system' and talked with the Mental Health Association of Maryland and National Alliance on Mental Illness (NAMI) about it."
"According to the 211 Maryland annual report, the number of people calling at a crisis moment has increased by 700% over the last 8 years. As a legislature we are constantly being asked 'what can you do to help Marylanders who suffer from mental health and substance abuse disorders?'," said Delegate Bonnie Cullison, House Bill 812 sponsor. "We have crisis hotlines that people can call when they get to a crisis point. But now we have created a program that proactively helps and prevents people from getting to a crisis point."
For the most up to date information about the 211 Health Check Program, please visit: https://211md.org/healthcheck/. Need help now? Dial 211 and press 1 to talk with a trained substance misuse professional.
###