I am pleased to invite middle and high school students who live or attend school in Maryland's 8th Congressional District to participate in the 2023 Congressional App Challenge. Students may register and submit their applications until 12:00pm EST on Wednesday, November 1, 2023.
This annual competition is a nationwide event intended to engage students' creativity and encourage their participation in STEM (Science, Technology, Engineering and Math) fields. The Challenge allows students to learn how to code by creating and exhibiting their software application, or "app," for mobile, tablet, or computer devices on a platform of their choice.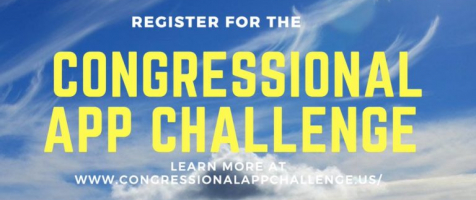 Students may compete as individuals or in teams of up to four (two teammates must live or attend school in the 8th Congressional District). The app of the winning student or team in the 8th Congressional District will be featured on the U.S. House of Representatives' website, the Congressional App Challenge website, and displayed in a U.S. Capitol exhibit. Winning students are invited to attend the #HouseofCode Capitol Hill Reception in Washington, D.C.
If you are ready and set to code, check out the complete rulebook for participating in the Challenge. Students should register as soon as possible for the Congressional App Challenge. Participants must submit a video explaining their app and what they learned through the competition process no later than 12:00 p.m. EST on Wednesday, November 1, 2023.
For more information, please visit the official Congressional App Challenge website at CongressionalAppChallenge.us. If you have questions, please contact my District Office at 301-354-1000.