ROCKVILLE, MD – Congressman Jamie Raskin (MD-08) announced the winner and runners-up of Maryland's Eighth District 2022 Congressional Art Competition. This year's winner is Isabel Acuna Marin from Albert Einstein High School in Kensington. Ms. Acuna Marin's art piece, titled "Tia Mona" will hang in the U.S. Capitol Building for one year alongside the winning entries from every congressional district in the nation. Congressman Raskin also launched a virtual art gallery for all submissions to the MD-08 2022 Congressional Art Competition.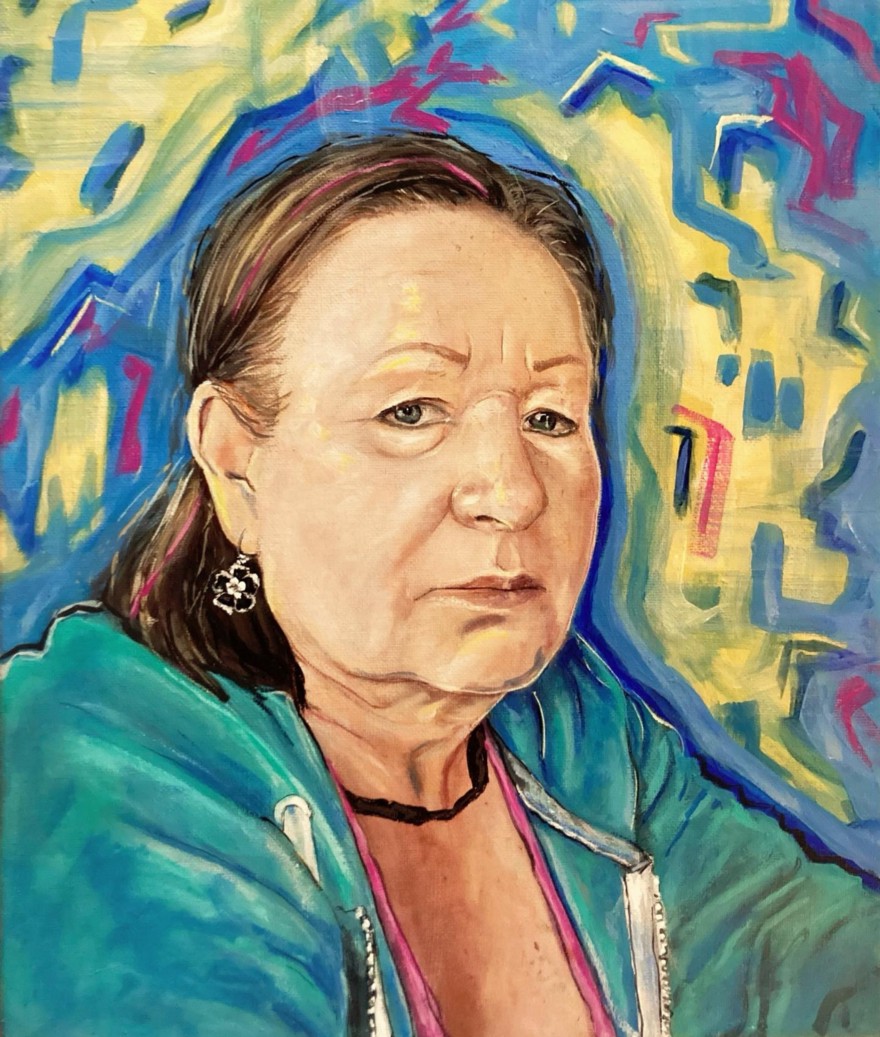 Tia Mona by Isabel Acuna Marin of Albert Einstein High School
"Congratulations to Isabel Acuna Marin for creating a breathtaking piece and winning this year's Eighth District Congressional Art Competition," said Rep. Raskin. "I salute the 25 second-place honorees for their dazzling contributions and thank all the student participants for sharing their tremendous artistic vision with our community. I encourage everyone to check out the highly impressive student artwork in my Eighth District Virtual Gallery. I am grateful to Rockville arts center VisArts for providing the online submission portal, which enabled us to safely receive and judge this remarkable art despite the continued challenges of the pandemic. I would also like to thank our wonderful guest judges Cathy Abramson, Ronald Beverly, Caroline Lewis, Ruth Lozner, and Jeffrey MacMillan, all of whom generously shared their time and dedication to make this competition a success."
Each spring, the Congressional Institute sponsors a nationwide high school visual art competition to recognize and encourage artistic talent in the nation and in each congressional district. Now in its 41st year, more than 650,000 high school students have participated since the competition's inception in 1982.
Congressman Raskin recognized 25 students as second-place honorees and will display their artwork in his Capitol Hill and Rockville offices. 133 high school students from 29 schools participated in this year's Eighth District competition. To view all submitted pieces, visit the Virtual Gallery here.
The second-place winners from Montgomery County are: Anthony Bonilla, Erin Malone, Ella Lepkowski, Sydney Reed, Megan Neill, Ella Spirtas of Albert Einstein High School in Kensington; Tamar Oliel from Charles E. Smith Jewish Day School in Rockville; Eric Yao from Georgetown Preparatory School in Bethesda; Katherine Yoon and Elsa Bell from Holton-Arms in Bethesda; James Moncur from Landon High School in Bethesda; Duyen Phan from Montgomery Blair High School in Silver Spring; Julia Angel from Richard Montgomery in Rockville; Olivia Vaughan from Stone Ridge School of the Sacred Heart in Bethesda; Darcy Hoffpauir of the Siena School in Silver Spring; and Alexandra Ericta and Charles Freedman of Thomas S. Wootton High School in Rockville.
The second-place winners from Frederick County are Sydney Spradlin of Linganore High School in Frederick; Margaret Gouker of Middletown High School in Middletown; and Olivia Adams, Kiegan Wheeler and Eisella Pearson of Oakdale High School in Ijamsville.
The second-place winners from Carroll County are: Celee Montgomery of Century High School in Sykesville; Devon Elliott of Liberty High School in Eldersburg; and Julianna Nefflen of Westminster High School in Westminster.
Participating Montgomery County schools include:
Albert Einstein High School in Kensington
Charles E. Smith Jewish Day School in Rockville
Col. Zadok Magruder High School in Derwood
Connelly School of the Holy Child in Potomac
Gaithersburg High School in Gaithersburg
Georgetown Preparatory School in Bethesda
Holton-Arms School in Bethesda
John F. Kennedy High School in Wheaton
Landon School in Bethesda
Rochambeau, The French International School in Bethesda
Melvin J. Berman Hebrew Academy in Rockville
Montgomery Blair High School in Silver Spring
Richard Montgomery High School in Rockville
Rockville High School in Rockville
Sidwell Friends High School in Bethesda
Springbrook High School in Silver Spring
St. Andrew's Episcopal School in Potomac
Stone Ridge School of the Sacred Heart in Bethesda
The Siena School in Silver Spring
Thomas S. Wootton High School in Rockville
Walt Whitman High School in Bethesda
Winston Churchill High School in Potomac
Participating Frederick County schools include:
Linganore High School in Frederick
Middletown High School in Middletown
Oakdale High School in Ijamsville
Tuscarora High School in Frederick
Participating Carroll County schools include:
Century High School in Sykesville
Liberty High School in Eldersburg
Westminster High School in Westminster
###