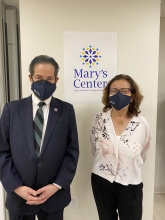 ROCKVILLE, M.D. – Today, Congressman Jamie Raskin (MD-08) joined the Second Gentleman of the United States, Mr. Douglas Emhoff, at Mary's Center, a community health center that has operated for more than 30 years and is now serving residents as a vaccination site during the COVID-19 pandemic. Rep. Raskin and Mr. Emhoff participated in a roundtable discussion with Mary's Center President and CEO, Maria Gomez, Chief Medical Officer, Dr. Tollie Elliott, and Director of Clinical Services, Elysia Jordan about their efforts to vaccinate their patient population and viewed a mobile vaccination unit that Mary's Center will soon deploy.
Mary's Center serves more than 60,000 people of all ages, incomes, and backgrounds with three clinics in Washington, D.C. and two in Maryland. Mary's Center started receiving vaccine doses in December 2020 at their Petworth clinic and has since expanded its vaccination efforts to all five locations across D.C. and Maryland after receiving additional doses from the federal government in early March. To date, they have administered nearly 3,500 doses. In addition to vaccination services, Mary's Center has also provided funding for childcare providers, food boxes for seniors, and Chromebooks for families without technology access during the pandemic.
"Under the excellent and inspired leadership of Maria Gomez, Mary's Center has become an essential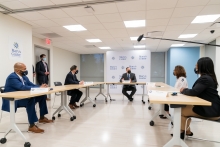 resource for our community over a more than 30 year period," said Rep. Raskin. "I'm immensely proud of the services it has provided to the Washington metro area for decades and its outstanding work for our most vulnerable populations in Maryland during the COVID-19 pandemic. On National Doctor's Day in Maryland, it was an honor to have the Second Gentleman come to visit Maryland's 8th District, which is home to remarkable doctors and nurses and medical personnel, extraordinary scientists and great medical establishments, from Mary's Center to NIH."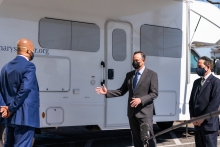 Mary's Center will receive $11 million from the Department of Health and Human Services (HHS) as a part of the American Rescue Plan's $6 billion in funding to expand COVID-19 vaccinations, testing, and treatment for vulnerable populations; deliver preventive and primary health care services to people at higher risk for COVID-19; and expand health centers' operational capacity during and after the pandemic. In March 2021, Congressman Raskin joined the Maryland Congressional delegation in announcing more than $68 million in American Rescue Plan funding for Community Health Centers (CHCs) across Maryland to expand COVID-19 vaccine distribution and access to equitable, affordable and high-quality health care beyond the pandemic.
###